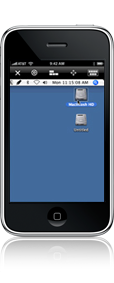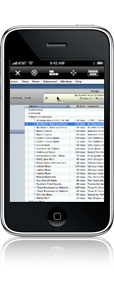 Access and control your computer from anywhere
iTeleport gives you full control of your computer's mouse and keyboard while providing a rich visual display of your computer screen on your iPhone, iPad or iPod Touch.

We also want to provide our users with the best support possible, so if you have any questions at all regarding iTeleport, check out our Support page or feel free to contact us directly.

Technical Specs:
A patented touchpad interface for mouse control and screen navigation.  iTeleport's interface is the easiest, most intuitive way to control your desktop from your iPhone or iPad. (US Patent #7,870,496)
Easy setup instructions
iTeleport Connect, a connection utility that automatically configures router and network settings so that you can use iTeleport over both WIFI and 3G.
Support for Mac, Windows, Linux, and AMX Touchscreen Interfaces
Over 15 multi-touch gestures
Support for ultra-high resolutions -- we've successfully tested on two Apple 30-inch Cinema displays with a combined resolution of 5120 x 1600!
Full support for Retina Display in iPhone 4
Support to run iTeleport in the background (on iOS4.0 or later)
Remote and Modifier menus for access to arrow, function and special keys, as well as shortcuts to common actions
Support for external keyboards (see details)
Support for VGA adapter cable (iPad and iPhone 4 only)
Cut/copy/paste/undo support
A fully encrypted connection, so that you can be sure your data is safe no matter where you are.
International keyboard support.  iTeleport supports any keyboard on Windows, and currently supports the following keyboards on Mac: US English, French, German, Swiss French, Swiss German, Italian, Swedish and Russian.  If you would like us to add support for another Mac keyboard, let us know.
Full support for manual setup, including SSH tunneling, so you don't have to use iTeleport Connect if would prefer to configure iTeleport yourself.
Save a screenshot of your desktop, for yourself or to share with a friend.
More details on
new features in recent releases are listed here
.
Supported Platforms:

Mac OS


Maverick (10.9.x)
Mountain Lion (10.8.x)
Lion (10.7.x)
Snow Leopard (10.6.x)
Leopard (10.5.x)
Tiger (10.4.x)

Windows

Windows 7 (Home Basic/Home Premium/Professional/Enterprise/Ultimate)

Windows Vista (Basic/Premium/Business/Enterprise/Ultimate)
Windows Server (2008/2003/2000)
Windows XP (Home/Professional/Media Center Edition)

Any Linux distribution (note we do not have iTeleport Connect for Linux available yet, but you can follow the manual setup steps)
Requirements
:
An iPhone, iPad, or iPod touch with iOS version 5.0 or later installed.
An active 3G, Edge, or Wi-Fi network connection